2019 Dates: May 28th - August 2nd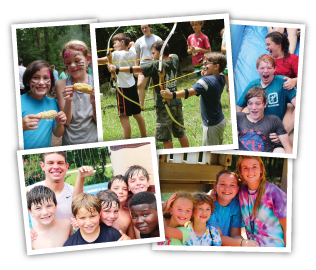 Summer will be here before you know it! Choose from one, some, or all of our 10 one-week sessions. Our Day Camp Program is from 9am-4pm, but we also offer extended hours from 7:30am-6:00pm at no additional charge.
Trinity Woods Summer Day Camp is a Christian setting where kids, ages five to thirteen, can have summer fun where they enjoy it most-OUTSIDE! Trinity Woods Summer Day Camp is a Christ-Centered outdoor experience where campers get to enjoy nature around our lovely 17 acre Trinity Woods and Trinity Creek.
---
Now Taking Applications for 2019
Sign Up Using Our Online Application
It is easy, safe and secure...


| | |
| --- | --- |
| For returning campers, you make login to your account and click on the Camper Application link in the forms section of your home screen. | |
Please Note: Since we are a summer operation, during the off season we don't have staff onsite to answer phone calls. Email is the best way to contact us! If you would like to speak to one of our directors, please email and they would be happy to give you a call. Please use the form below or email any questions you have to campdirector@trinitywoods.org.
Payment Information:
Mail or dropoff checks during open house.
Mailing Address:
1899 Tucker Road
Macon GA 31220

---

We are currently getting ready for the upcoming camp season. Registration will be open on March 1st. Check back for more information on Open House or follow us on Facebook for news and updates.
Summer 2019 - Weekly Themes
Week 1 - May 28th-May 31st (No camp Monday, May 27th—Memorial Day)
•Welcome Week
Week 2 - June 3rd-June 7th
•Group Sing
Week 3 - June 10th-June 14th
•Olympics
Week 4 - June 17th-June 21st
•Renaissance Fair
Week 5 - June 24th-June 28th
•Talent Show
Week 6 - July 1st-July 5th (No camp Thursday, July 4th—Independence Day)
•Freedom Fest
Week 7 - July 8th-July 12th
•Color Wars
Week 8 - July 15th-July 19th
•Traditions Week
Week 9 - July 22nd-July 26th
•Normal Week
Week 10 - July 29th-August 2nd
•Low Enrollment Week (if needed - possible Week 11 TBD)
---

2019 Camp Theme - To Be Determined
2018 Camp Theme - Chosen
2017 Camp Theme - FROG - Fully Rely on God
2016 Camp Theme - Unleash the Power!
2015 Camp Theme - Splashes of Joy
2014 Camp Theme - Every Sheep Needs the Shepherd
2013 Camp Theme - Lose Control
2012 Camp Theme - Who am I?
2011 Camp Theme - Go Tell it on the Mountain
2010 Camp Theme - Armor All the Way (about The Armor of God)
2009 Camp Theme - Holy Heroes
2008 Camp Theme - Son Ripened in God's Garden
2007 Camp Theme - Walking in the Light
2006 Camp Theme - Trees of the Field